At 6rasa, our aim is to bring the traditional health foods – real treasures of India – back into mainstream culture. For the new age, health conscious you, we have designed food and beverages that have kept up with the times; products that are crafted with care and are convenient to use. And more importantly, products that taste great while retaining all the essential health benefits
A Treasure
A Treasure Created By Time And Tradition And We're Bringing It To You With Love
Mastered over generations, Indian traditional foods have an incredible diversity of flavours, colours, and aromas while also being really healthy. In today's world where our lifestyles are changing dramatically, the access to these foods has become increasingly limited.

At Shadrasa Brands, our aim is to bring these traditional foods – real treasures of India – back into mainstream culture. For the new age, health conscious Indian, we have designed food and beverages that have kept up with the times; products that are crafted with care and are convenient to use. And more importantly, products that taste great while retaining all the essential health benefits.

Good Health
Times Have Changed The Key To Good Health Hasn't
Our foods and beverages have been created for modern times but inspired by the age-old Shadrasa (shad six and rasa taste) theory of Ayurveda. As stated in it, consuming the six tastes in balanced proportions through our foods, will have positive effects on our mind and body.

At Shadrasa Brands, we have profound respect for our heritage and a deep connection with the land. And, when it's about food, we believe it's as much in the skill of the hand that makes it, as it is in the sincerity of the heart behind it.

Our first offering is a range of traditional herbal infusions which promise invigorating taste that restores beneficial effects on the body and mind while nourishing the soul. Relish the aromatic flavours entwined with numerous health benefits, matched with delicious taste for a happier you


Harness The Power Of Healing Herbs and Spices !
Get in touch with your roots and embrace healthy living with our range of delectable herbal infusions. All our herbal infusions are made using 100% natural herbs and spices of the finest quality.
Seed - The birth of the "6rasa" idea
During extensive work-related travel to India's 40+ handloom clusters, we uncovered incredible diversity of tasty-healthy-traditional beverages like kashaya, kahwa, ukhado, menasina hani, sharbaths & many more. This was in stark contrast to the bland-flavorless green tea at our office back in Bengaluru. This got us thinking...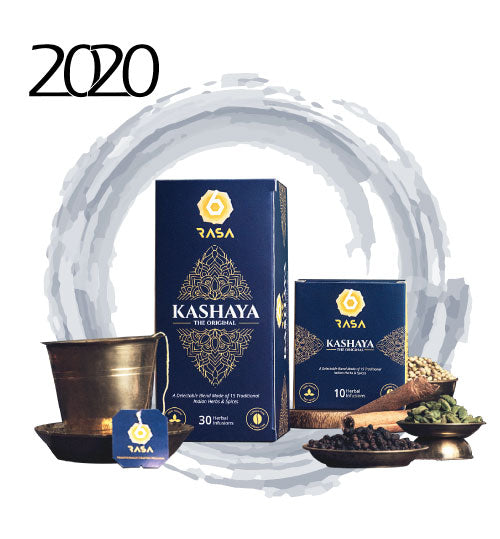 Germination - 6rasa Kashaya launch
After endless hours of exciting research (after work hours & during weekends) for close to a year, we were ready with a wellness-focused range of delectable herbal infusions. Our first product, 6rasa Kashaya was launched in the market, initially focused on the B2B segment, (corporate offices, travel & hospitality segment) offering a tasty, healthy alternative to caffeinated hot beverages.
Stems and Roots - Shelves & Beyond-
6rasa expanded into 250+ retail outlets across Karnataka while in parallel building a strong online presence for catering to the rest of India.
Growth and Development - New Range & We are just getting started!
After winning the hearts of thousands of customers across India/World with 6rasa Kashaya, we are on a mission to revive many more traditional wellness foods & beverages which are rooted in ancient science and knowledge, which taste great and suit our palate/gene pool. We are expanding our herbal infusions range with Tulsi, Kahwa, Chamomile, Mint (and many more).